Rabbit Hemorrhagic Disease Virus 2
RHDV2 Updates for Rabbits in the Los Angeles Area
RHDV2 is a lethal, highly contagious rabbit virus currently spreading across the US. Symptoms include fever, lethargy, internal bleeding and/or organ failure. We urge all rabbit caretakers to take this disease seriously and to take precautions to keep your rabbits safe. We'll keep updating this document to indicate where confirmed outbreaks are located and provide tips for Los Angeles rabbit caretakers.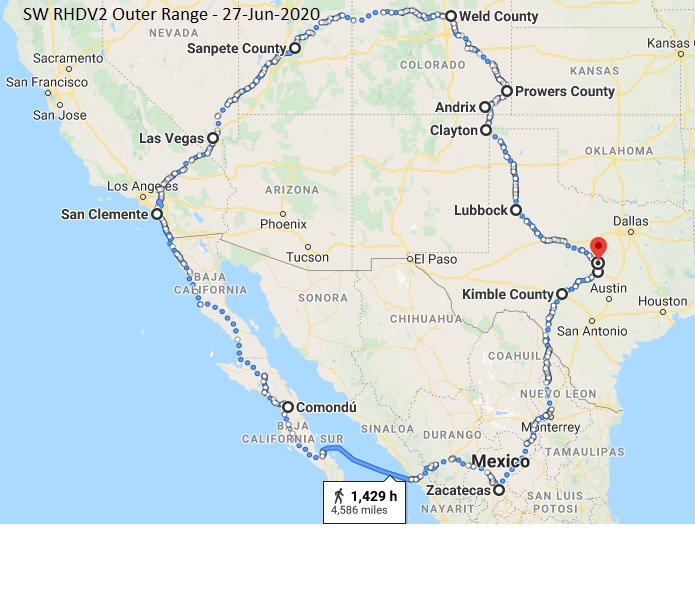 Credit James Wilson for the map showing the outer perimeter of the disease spread as of June 27, 2020.
June 25, 2020
RHDV2 has spread into Orange County. Vaccinations have begun at some clinics in the Los Angeles area. Please see below for a list of the veterinarians offering the vaccine and take biosecurity measures to protect your rabbits.
Here are some ways to protect your rabbits from the virus:
Keep your rabbits indoors 100% of the time. If your rabbits are not indoors now, it's time to consider moving them inside.
Do not wear your outside shoes in the home. Practice keeping shoes outside if you don't normally do this, and set aside "indoor" footwear.
Avoid contact with rabbits outside the home. Plan what to do if you volunteer at an animal shelter, or have friends with rabbits you watch or visit. See tips from www.rabbit.org/rhdv to minimize the risk of spreading the virus on your clothing, shoes, and surfaces, using shoe covers and disinfecting with recommended products only in recommended concentrations. Effective disinfectants include: bleach (1:10 dilution), potassium peroxymonosulfate (Virkon), accelerated hydrogen peroxide (Prevail, Accel, and Peroxigard). Do not use these on or around your rabbits.
Keep mosquitoes and flies out of the home with window and door screens.
Keep dogs and other pets that go outdoors separate from your rabbits. Plan what to do if you have other pets that go outside, and consider flea control for them if you don't have it already. If your dog goes on hikes, be careful to wash paws with soapy water and not allow your pup to go into the same areas as your rabbit.
Do not feed greens that you have foraged (dandelions from the yard, for example). Look for commercial greens sources in areas that haven't had confirmed RHDV2 cases. Much of our produce comes from AZ and Mexico where RHDV2 is already widespread. Leafy greens that are grown in a greenhouse are probably safe. There is no way to truly "sterilize" leafy greens and therefore, it's better to cut back on greens a bit to minimize any potential virus load, rather than attempt to clean them with any commercial cleaner that may be more of a risk to your rabbit. It does make sense to use a basic vegetable wash to reduce general contaminants and dirt, always rinsing well. Consider growing leafy greens in indoor hydroponic or aerogardens.
Feed hay that has been harvested at least 105 days prior. If you buy relatively fresh hay from a hay barn, find out where that hay was harvested and avoid hay from outbreak areas. Then store the hay for 3-4 months to minimize risk before feeding it. Hay should be stored indoors only away from rodents or insects. You'll want to store it in cardboard boxes or other breathable container, or the hay could mold. Pre-packaged hay from Small Pet Select, KMS Hayloft, Oxbow and the like should be safe as it is over 3 months past harvest.
For more information on RHDV, including symptoms, information about the vaccines, and more, please see www.rabbit.org/rhdv
Veterinarians in the Greater Los Angeles Area
Vaccinating for RHDV2
Contact your primary veterinarian first to see if s/he is carrying the vaccine.
Not all veterinarians want to be listed publicly and some may not be taking
new clients. Those listed below will be carrying the vaccine and accepting new clients.
Please be patient and polite with veterinary staff! This is new to all of us.
Westminster Veterinary Group⁣
6512 Westminster Blvd.
Westminster, CA 92683⁣
Call: 714-899-1100 ⁣(currently vaccinating; appointments available)
⁣
Northwood Animal Hospital⁣
13925 Yale Ave.
Irvine, CA 92620-2669⁣
Call: 949-559-1992⁣ (currently vaccinating; wait list)
⁣
VCA Arden
407 Arden Ave.
Glendale, CA 91203
Call: 818-246-2478 (vaccine arriving in July)
VCA West Los Angeles
1900 S. Sepulveda
Los Angeles, CA 90025
310-473-2951 (vaccine arriving in July)
Animal Medical Center⁣
91 E Grand Blvd #102
Corona, CA 92879 ⁣
Call: 951- 547-1795⁣ (vaccine ordered but not arrived)
ACCESS Specialty Animal Hospitals
9599 Jefferson
Culver City, CA 90232
Call: (310) 558-6100 (taking appointments)
Exotic Animal Veterinary Center⁣
171 N. Altadena Dr., Suite 120
Pasadena, CA 91107⁣
Email: vetnurse@eavcpasadena.com
Call: 626-405-1777 ⁣(awaiting re-order; wait list)